Do niedawna nie lubiłem listów formalnych. Listy do redakcji nudziły mnie i wydawały się jakieś takie sztuczne. Ale tak było przed erą "fake news". Jeszcze 5 lat temu nie mówiło się tyle o manipulacji mediów i przekłamaniach polityków. Niby nie wiele czasu minęło…
Od mniej więcej pięciu lat jednak nie tylko uwielbiam listy do redakcji, ale i zachęcam uczniów do pisania ich poza lekcją w sytuacjach, w których czują się poruszeni kłamstwem i niesprawiedliwością tego świata. \
Ostatnio rozdział 11 zainspirował mnie, żeby otworzyć mój podręcznik szerzej i zachęcić moich uczniów do myślenia krytycznego i reagowania na fałszywe wiadomości. Na początku poprowadziłem lekcję w oparciu o sekcję z podręcznika.
Przy okazji odkryłem, że oprogramowanie Pioneer Plus na tablicę interaktywną kryje w sobie o wiele więcej niż podręcznik. Poniżej przykład dodatkowej planszy do tematu "Pisanie listu do redakcji" nieobecnej w tradycyjnej wersji podręcznika.
Z wielu nieprawdziwych artykułów omówionych na www.snopes.com lub www.buzfeed.com wybrałem ten dotyczący Polski. Oczywiście nie sugerowałem uczniom, że artykuł może być fałszywy.  To miała  być kolejna lekcja w okolicach Bożego Narodzenia. Jedyne co zroblem jako wstęp do lekcji to napisałem na tablicy wielkimi literami:
DUI
i zapytałem czy znają ten skrót. Kilka osób wiedziało, że jest to:
Driving under influence
Tylko spójrzcie: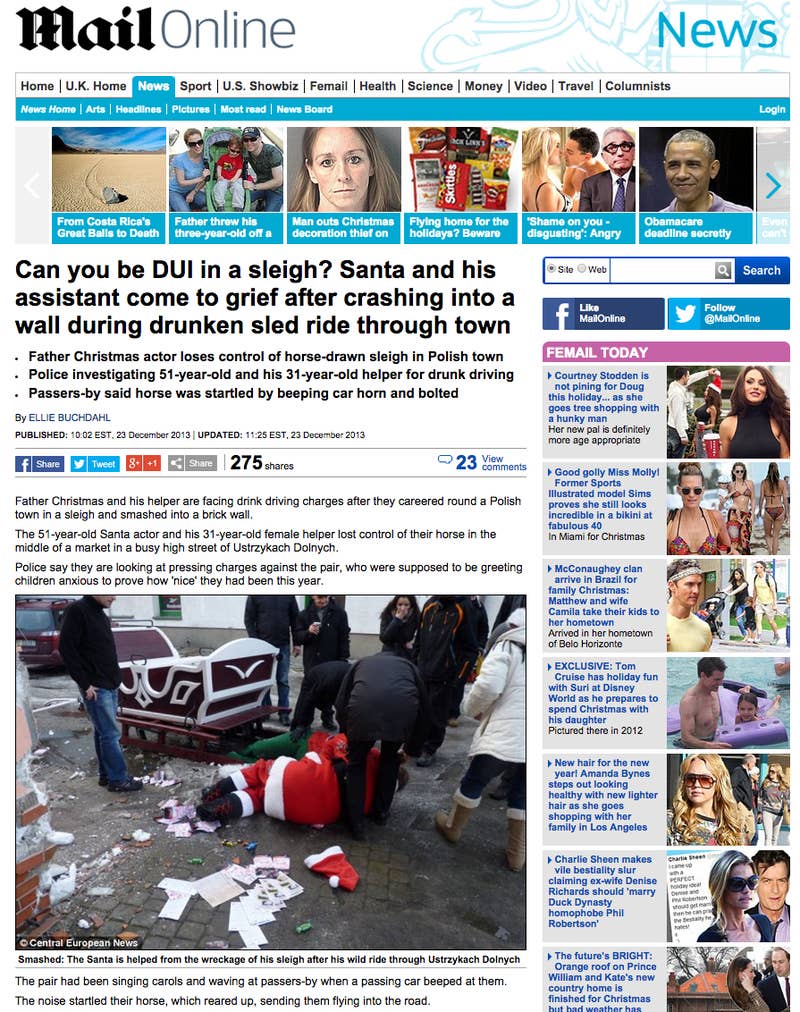 Następnie przeanalizowaliśmy historię pod kątem fałszywych wiadomości posługując się takim oto plakatem. Wypisaliśmy w jaki sposób elementy wspomnianego artykułu pasują do plakatu.
Zastanawialiśmy się także, jak publikacja takiego fałszywego artykułu mogła wpłynąć na życie opisanych tam osób. Dołałem jeszcze oliwy do ognia pokazując uczniom oficjalną notę dyplomatyczną wysłaną z MSZ w sprawie tego artykułu. List ten może być traktowany jako model wypowiedzi i jest źródłem ciekawych zwrotów do wykorzystania w swoim liście.
Dear Mr Dacre,
I am writing to you in regards to a recent article by Ellie Buchdahl entitled "Can you be DUI in a sleigh? Santa and his assistant come to grief after crashing into a wall during drunken sled ride through town" published by "the Daily Mail" on 23rd December.
It has been drawn to my attention that the article has been written with blatant disrespect for basic rules of journalism such as accuracy and factual reporting standards. The author of the article claims that the accident in Ustrzyki Dolne happened as a result of Santa and his assistant being under the influence of alcohol and that both actors are now facing drink driving charges. However, according to the police in Ustrzyki Dolne no such charges have been placed against the couple as both of them were sober during the accident. Furthermore, the police press officer Dorota Glazowska has denied that she was interviewed by "the Daily Mail" while her fake quotation was included in the text by Ellie Buchdahl. Similarly, Zdzisław Mołodyński allegedly quoted by you in the article claims that he has not been approached by your staff.
Moreover, the Embassy has received a complaint from Zdzisław Mołodyński that the photographs taken by him during the accident were published by "the Daily Mail" without his consent or even a request for his consent.
Bearing in mind the above, I would like to request the explanation how such distortion of facts could have happened while writing the article. Moreover, I expect that you remove the article from your website as well as that you publish an apology for the deceitful content written by Ellie Buchdahl.
Yours sincerely,
Dariusz Łaska
Chargé d'Affaires a.i. źródło:
http://www.dailymail.co.uk/news/article-2528401/Bad-Santa-pie-eyed-assistant-fall-sleigh-drunken-ride-high-street.html,
Po przeanalizowaniu wszystkich materiałów wspólnie doszliśmy do wniosku, że na takie publikacje powinniśmy reagować, co więcej sformułowaliśmy prawdopodobne zadanie maturalne:
I co teraz? Czekam na odpowiedzi uczniów. Jak tylko sprawdzę, to się podzielę 🙂
Tak naprawdę to mam ochotę pokazać uczniom sprostowanie, które przygotowało Daily Mail w odpowiedzi na deszcz listów do ich redakcji. Takie sprostowanie, jak zobaczycie poniżej, otwiera drogę do kolejnych wspaniałych listów do redakcji, no bo co to za sprostowanie :-):
In an article published on the 23rd of December 2013 headlined 'Can you be DUI in a sleigh? Santa and his assistant come to grief after crashing into a wall during drunken sled rise through town', we reported that a Father Christmas and his helper in Poland were facing drink driving charges. The article also included quotes from Zdzislaw Molodynski. We have since been informed that the Father Christmas and his helper did not face any charges and that Mr Molodynski refutes the quotes that were attributed to him. We are happy to clarify these points. źródło: https://www.dailymail.co.uk/home/article-2559017/Clarifications-corrections.html